Are you a baseball fan? And do you want to know who the legendary players to have set the highest MLB (Major League Baseball) record of all time are?
Well, worry not as we will be discussing the 12 highest MLB record till now. MLB is a sport that is filled with history with multiple remarkable records.
Records are built over time, while some are made in days, but most require years of greatness. Therefore, it is hard for most players to match or break these records in time.
Most of them can't break or tie the records due to the change in the league's rule. Similarly, the shift in focus due to changes in the game also has had an impact.
However, we have dived deep into the history of MLB to find the highest MLB record till now.
Quick Overview
| | |
| --- | --- |
| Records | Record Setter |
| 12. Most All-Star appearance | Hank Aaron |
| 11. Most Outfield careers assists | Tris Speaker |
| 10. Most career sacrifice bunts | Eddie Collins |
| 9. Most career home runs as an AL pitcher | Wes Ferrell |
| 8. Longest hitting streak | Joe DiMaggio |
| 7. Most triples in a season | Chief Wilson |
| 6. Most career wins | Cy Young |
| 5. Most Career batting average | Ty Cobb |
| 4. Most consecutive grand slams in an inning | Fernando Tatis |
| 3. Most consecutive non-hitters | Johnny Vander Meer |
| 2. Most career MLB hits | Pete Rose |
| 1. Most Career strikeouts | Nolan Ryan |
Highest MLB Record Till Now
The highest MLB record mentioned is assembled based on their dominance, leaderboard number, and toughness. Most of them are compiled about Espn.com, Mlb.com, and Baseball-reference.com.
12. Most All-Star Appearance
The legendary Hank Aaron has had many records set throughout his decorated 27 years as a professional. However, the one that stands out is his 25 most All-Star appearance.
Due to the league hosting two All-Star games in one season from 1959 to 1962, Aaron's record benefited from that.
As a result, he played eight All-Star games in that period. And for the rest of 18 years, MLB selected him where he played in every All-Star game except two seasons.
Therefore, he didn't play in his rookie year and another in his injury-prone season.
As the rules have now changed, MLB hosts the All-star game just once. Hence, a player has to play at least 26 seasons and get selected in every All-start Game to break this record.
Even though we know the league doesn't select players as an All-Star in their rookie season. However, even if we make an exception, playing for 26 seasons seems impossible.
Therefore, no other baseball player will break this record unless the MLB decides to host two All-Star games a season.
Hence, this record will forever be on the highest MLB record for the most All-Star appearance.
11. Most Outfield Careers Assists
Assists records are rarely seen these days as the game's focus has shifted far from it. However, in the early '90s, the game was highly focused on assists as much as hitting or pitching.
Tris Speaker shined the most during that period with his spectacular 449 outfield careers assists.
To magnify his record, Speaker has 233 more outfield assists than Roberto Clemente's 266 assists, ranking second behind Speaker.
Therefore, the breathtaking difference between the two might have given you a picture of how good he was.
He was a very enthusiastic player who did almost everything in his hands to help his team win. Hence, he followed up on every ball rather than coming in.
In his 18 seasons as a professional, he led the league in assists in all of them. He averaged over 20 assists in fourteen seasons and over 35 in the rest of four.
Hands down, he is one of the greatest fielding centerfielders ever to play the game of baseball.
10. Most Career Sacrifice Bunts
As the game evolves, certain areas of the game will always be left behind. One of those areas is sacrifice bunts which are not seen often in today's game.
However, the history of the league is enriched with sacrifice bunts. One of those histories belongs to Eddie Collins' 512 sacrifice bunts.
This is the highest sacrifice bunts ever made in the league's history.
The overwhelming difference of 120 between Collins and the second behind him talks about his greatness. 
Not only that but the active leader in career sacrifice bunts, Clayton Kershaw has 108, which ranks him as the 334th on the all-time sacrifice bunts list.
Therefore, this shows how much the game has moved further from it. It is probably because the MLB team, rather than sending their pitcher, sends their pinch hitter.
Since you're a pinch hitter, you won't want to sacrifice batting as you are still a good batsman.
Nonetheless, if you were a pitcher, you would want the spot to be taken by a batsman, leading the pitcher to sacrifice their batting.
9. Most Career Home Runs As An AL Pitcher
Of course, pinch hitters don't get as much opportunity as batters because of the obvious reason that they are substitute batters.
Also, some pinch hitters' major roles are pitching, so they don't excel in batting. However, that is not the case for Wes Ferrell, an exceptional batter.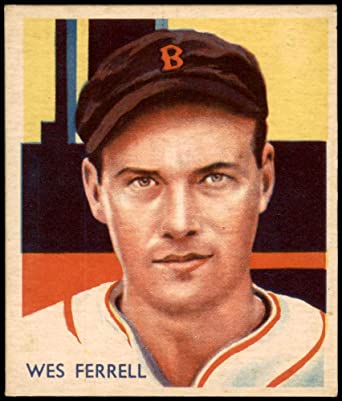 The only problem was that Ferrell was a pitcher rather than a batter. More precisely, he was listed as a pitcher/pinch hitter, meaning he occasionally got in the batting action.
But whenever he got an opportunity, Ferrell made sure to make the full out of it. Therefore, he recorded 37 home runs as a pitcher in the American League.
This is the highest home run recorded by any pitcher in the league's history. However, we firmly believe that he would have put up more home runs if he got more opportunities.
8. Longest Hitting Streak
Over the year, there have been many power hitters to have left the league in awe. As a result, multiple outstanding records relating to batting have been put up.
Amongst those outstanding records, one that holds a rich history is Joe DiMaggio's longest hitting streak that lasted for 56 games in the 1941 season.
There are altogether seven hitting streaks in the history of the league, excluding DiMaggio's streak. Further, six of them are for 40 games, while one is for 44.
Therefore, no one has replicated or even held it above 44 games. So to expect the record to be broken anytime soon is foolishness.
During the 1941 season, DiMaggio recorded a 0.408 batting average and 91 hits. Many can average the exact number but can't keep up with the consistency.
Read About 19 Best Female Soccer Players
7. Most Triples In A Season
Looking at so many of these records, you can't stop to think about how different the game of baseball was from what we know today.
One of those aspects of the game was recording a season-high triple of 36 that stands for more than a century now.
There is no doubt that the record set by Chief Wilson in 1912 will again stand for another century.
The closest to the record is 31, which Dave Orr set in 1886 and Heinie Reitz in 1894. And since Jimmy Rollins's 20 triples in the 2007 season, no one has a double-digit triple recorded.
This is how much the game has evolved from as the focus has shifted far from it. Nonetheless, Wilson's effort will forever be cherished as a fantastic record.
6. Most Career Wins
This is the most overwhelming record as it not only requires greatness, it also requires you to be consistent and dominant throughout your career, even to get close to it.
A record set by Cy Young during his professional career from 1890 to 1911 is the greatest of all. He was so dominant that he had five 30-wins seasons and fifteen 20-win seasons.
Therefore, at the end of his career, he had the most wins with 511. A player has to average 25 wins in 20 seasons to get to 500 career wins to break it down.
Now that might be possible in a hypothetical world, but it is next to impossible in the world that we live in today.
There is a difference of 91 wins between Young and Walter Johnson, who is second behind Young.
5. Most Career Batting Average
An overpowering record that will forever be sealed in the MLB history is Ty Cobb's highest 0.366 career batting average.
Further, Cobb was a great batter from the beginning of his career. He led the league 11 times in batting average out of his 23 years as a professional.
Not to mention, he won 12 batting titles during that period. It was up to the point that no other batter ever even dreamt of winning the batting title.
Likewise, he recorded a 0.400 batting average in three seasons and 0.380 in nine. Thus, the batsman had an extended period of prime throughout his career.
Over ten years of greatness is something we get to see rarely these days.
Moreover, it's hard not to remember Cobb with batters like José Altuve being the active leader in career batting.
Obviously, Cobb played a much different game than what it is today. However, we don't define greatness by their period, their hard work and dedication define it.
4. Most Consecutive Grand Slams In An Inning
This is surely one of the most underrated records on the list. Most people don't even understand the greatness of this record.
Only thirteen people in the league have hit two grand slams in one game. Of them, only one person, Fernando Tatís, has hit two grand slams in a single inning.
It is obviously a challenging task to hit one grand slam in a game, and hitting two in an inning is rare and comes only once.
Now to break this record, a player has to hit three grand slams in 15 pitches. And if you're an MLB fan, you know how big of a task this is.
Therefore, two might be a small number, but in the context of hitting grand slams in one inning, it is undoubtedly the highest number ever recorded.
3. Most Consecutive Non-Hitters
This record is a symbol for pitching to the next level as nothing as it has ever happened and surely nothing like it will ever happen.
During his second season as a baseball player, Johnny Vander Meer set the record.
The record of two consecutive non-hitters is so excellent that even he could never repeat this through his remaining career.
Now the expectation for any pitcher to repeat or break this record is unimaginable.
For once, it is easier to imagine someone hitting 74 home runs in a season, but three non-hitter is a hard no.
2. Most Career MLB Hits
There is no such list of power hitters that don't include the name of the great Pete Rose. He is a killer while batting, and no one comes even close to what he has achieved.
He is the all-time leader for the most career MLB hist with 4,256. Throughout his 24 years career, he has been successful enough to average more than 180 hits.
Not to mention, in ten seasons out of 24, Rose averaged over 200 hits. Therefore, he had a long extended period of prime as even his age didn't seem to stop his ability to hit.
Moreover, the record is so enormous that no batter has ever been able to be even close to it.
Rose has a commanding lead of 964 hits, more than the batter who ranks behind him. And there is no active major league player even to come close as to breaking this record.
Any player to even come close to his record would have to average more than 200 hits in each of 21 seasons.
And with the game being so intense, there is no room for such outstanding performance by any player whatsoever.
1. Most Career Strikeouts
The one that stands out the largest on the highest MLB record list is the most career strikeout of 5,714 set by Nolan Ryan.
Straightforwardly, he is a pitch-god who specializes in striking out players with ease.
Ryan averaged 300 strikeouts in six seasons and 200 strikeouts in fifteen seasons for a better understanding.
Not only that, but Ryan also led the league in strikeout 11 times out of his 27-year career.
If you still doubt Ryan's ability to pitch, then the next closest to him has 893 fewer strikeouts than him. Now, we hope you understand how good of a pitcher he was.
Conclusion
Most MLB records created are broken by players coming along with a chip on their shoulder. However, the above-mentioned highest MLB record can undoubtedly be regarded as unbreakable.
As a result, let's appreciate these individuals for their special hard work day in and day out to their profession.
Read About 13 Best Female Baseball Players in the World